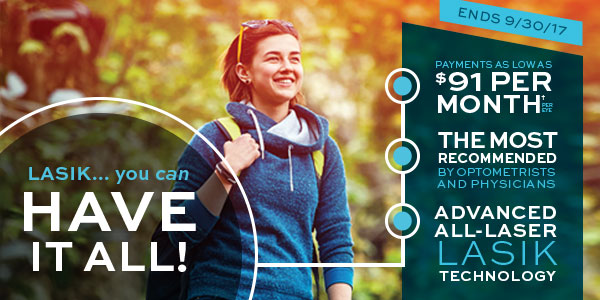 Have It All
Don't settle when it comes to choosing a LASIK provider! Dr. Ferguson and Dr. Wörtz, have helped thousands of local Kentuckians enjoy clear vision, making us home to two of Lexington's most experienced LASIK surgeons. Plus, we use the safest, All-Laser LASIK technology, allowing us to custom treat more patients than ever before – including those who have astigmatism.
Want even more? When you have LASIK before September 30th you will enjoy $600 savings on LASIK, making it more affordable than ever! It's everything you ever wanted … the right technology, the best value, all from the doctors most recommended for LASIK by optometrists and physicians alike. Download your savings today below and schedule your free LASIK consultation!
Call (859) 554-406 or click here to schedule your FREE LASIK Screening or Exam today!
Download your savings certificate today!
*Savings based on bilateral procedure. NFinancing on approved credit. Not substitute for general eye exam.