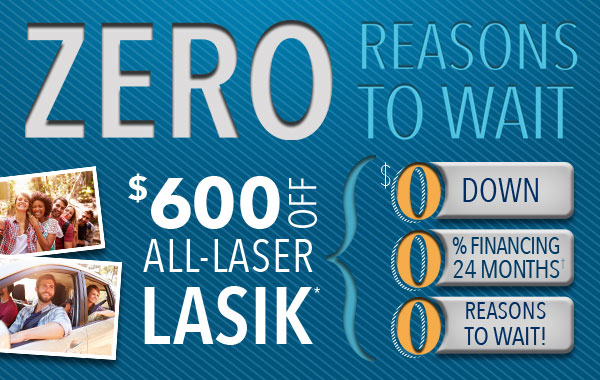 Zero Reasons
You've been waiting. You keep saying, this is the year I'm going to have LASIK, but then… maybe I'll wait until I'm over 40 for LASIK, or…I'm probably not a candidate for LASIK, or…I'm too scared. But, more time has gone by and here you are, still hassling with inconvenient, frustrating, poor vision.
Well, whatever your reason, Commonwealth Eye Surgery is proud to say…there are zero reasons to wait! We know you want the safety, results, experience and technology you deserve and at a good price, and lucky for you, Dr. Ferguson and Dr. Wörtz can give you both. Not only does Commonwealth Eye Surgery have Lexington's first and most experienced team of LASIK surgeons and most recommended by physicians alike, but they can treat a broader range of patients than ever before.
From now until February 28th, you can enjoy $600 savings with 0% down and 0% interest on your 20/20 until the year 2020. Download your savings and call (859) 554-4062 or click here to schedule your free consult today!
Download your savings certificate today!
*Savings of $300 off per eye LASIK regular price. New patients only (no prior refractive procedures). Free Screening not substitute for regular eye exam. Cannot be redeemed for cash or combined with other offers or insurance. †Financing on approved credit. @Copyright 2018, Eyemax. All rights reserved.