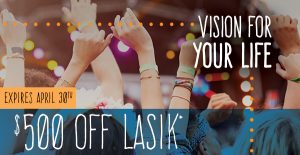 In today's fast-paced world, we're experiencing each moment in life as it happens. So why let blurry vision hold you back? It's time for visual freedom with LASIK by Commonwealth Eye Surgery.
Having LASIK gives you the vision for YOUR life! LASIK gives you freedom – the freedom to travel unrestrained, the freedom to dive in without thinking twice, the freedom to see life clearly! And combined with Dr. Ferguson and Dr. Wörtz's, 40 plus years of experience, LASIK is a safe, proven treatment that has given tens of thousands of people right here in Lexington the freedom of clear vision.
Plus, have your LASIK procedure before April 30th and you can enjoy $500 savings and zero percent interest financing†. Click here to schedule your FREE consultation or call Commonwealth Eye Surgery at 859-554-4062 and mention your $500 savings.